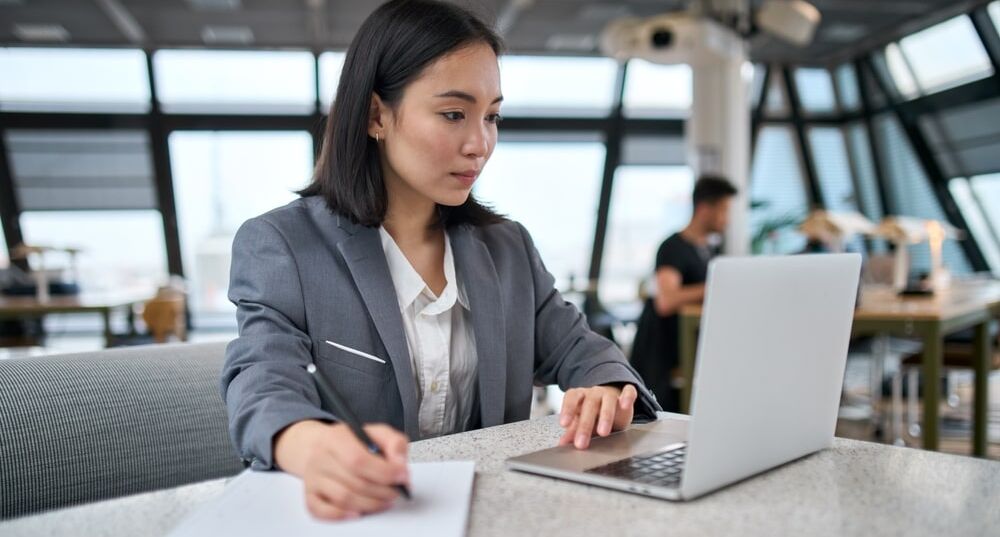 If you're brand new to QuickBooks, the learning curve can be overwhelming. There is a lot to cover but remember, you don't need to tackle it all in one day. In fact, learning QuickBooks slowly and taking online QuickBooks training is a much better approach than quickly trying to go through all of what the accounting software has to offer.
The good news is that there is a light at the end of the tunnel – once you get through the initial QuickBooks training, the software offers a multitude of benefits and makes your accounting and bookkeeping tasks simple and clear.
The best way to approach QuickBooks is to set aside time and gather resources related to QuickBooks for beginners to help you. Here are some tips to get you started.
1. Make a List of Your Daily Objectives
If you're learning QuickBooks on your own, we recommend splitting days up to focus on 1-3 things at a time. Here's an example of a learning plan that you can make for yourself:
Day 1 – Browse through the software and familiarize yourself with the interface. Go through the QuickBooks Getting Started Tutorial.
Day 2 – Start entering business information, set up accounts, and get organized. Learn how to input customer information and employee details.
Day 3 – Learn invoicing, inputting expenses and payments, and navigating financial statements. Learn reconciliation, printing checks, and paying bills via QuickBooks
Day 4 – Start customizing and automating transactions.
Day 5 – Learn about 3rd-party app integrations and browse through compatible apps.
2. Take Advantage of QuickBooks' Getting Started Tutorials
QuickBooks offers a Getting Started Tutorial that walks you through how the accounting software works, including inputting data, invoicing, paying bills, and more. The QuickBooks tutorial is very practical and easy to understand. It's designed for beginners to get set up and familiarized with the basic software features.
If you find that tutorials are not enough and navigating the software on your own feels daunting, then online QuickBooks training is a valuable resource. Proper training and guidance from a QuickBooks Pro minimizes the learning curve, removes the guesswork, and allows you to thoroughly learn the software.
Have a Basic Understanding of the Accounting Principles
First and foremost, having a basic understanding of accounting principles is going to make learning QuickBooks a little easier. This doesn't mean you need to learn accounting and bookkeeping extensively (that's what your professional accountant and certified bookkeeper are for!), but knowing the rules and guidelines when reporting financial data will set you up for success. You'll have accurate numbers and can make good financial decisions based on those numbers.
At Accounting by Sal Corp., we walk our students through basic accounting principles in our online QuickBooks training courses. Entering data without knowledge of basic accounting principles can lead to inaccurate reports and mistakes, which can be time-consuming to correct later on. Learning the basics of accounting and bookkeeping helps you feel more confident when posting transactions and pulling accurate reports. Knowing the accounting principles is crucial as it improves the consistency and quality of your business's financial information.
3. Use Convenient QuickBooks Keyboard Shortcuts
Gone are the days of meticulously writing down each and every transaction on a piece of paper and adding them up manually. QuickBooks is here to make your life easier, and one of the convenient features that help with this is keyboard shortcuts. Here are some commonly used shortcuts to try (in alphabetical order):
Ctrl+A – Displays the Chart of Accounts window
Ctrl+C – Copies your selection to the Clipboard
Ctrl+D – Deletes check, invoice, transaction, or item from the list
Ctrl+E – Edit transaction selected in register
Ctrl+F – Displays the Find window
Ctrl+I – Create an invoice
Ctrl+J – Open Customer Center
Ctrl+M – Memorize transaction or report
Ctrl+N – New invoice, bill, check, or list item in context
Ctrl+Q – QuickReport on a transaction or list item
Ctrl+T – Open memorized transaction list
Ctrl+W – Displays the Write Checks window
Ctrl+X – Moves your selection to the Clipboard
Ctrl+Insert – Inserts a line into a list of items or expenses
Ctrl+Delete – Deletes the selected line from a list of items or expenses
4. Customize the Software to Your Needs
Once you're familiar with the basic functions, we recommend customizing the software based on your needs. You can use ready-made templates to customize invoices and spreadsheets to your liking.
You can customize your icon bar and choose which links are displayed by adding, removing, or modifying the icons. As you start using QuickBooks, you'll become familiar with the items that you use frequently and the ones you don't need. A customized icon bar helps boost your efficiency and makes it quick to find the links you need.
Here's a quick overview of how to customize your icon bar, which is incredibly simple to do:
To remove an icon:

Select 'View' and click on 'Customize Icon Bar'
Click on the icon you want to remove and click 'Delete'.

To add an icon:

Select 'View' and click on 'Customize Icon Bar'
Click 'Add' and select the icon from the list
Change the label and description and click 'OK'

To modify an icon:

Select 'View' and click on 'Customize Icon Bar'
Click on the icon you want to modify
Click 'Edit' and make your changes, and then click 'OK'
5. Always Reconcile QuickBooks Accounts
One of the most important things you can do on the QuickBooks software is constant reconciliation. This helps you check that all of your transactions and bank account details are recorded, ensuring that your financial statements have a beginning and ending balance.
Set aside time to review your books and perform reconciliations to verify that all your records are accurate. Completing weekly, quarterly, and yearly reviews will help you stay on top of where your money is going and gives you peace of mind that your finances are under control.
6. Backup Your Work
Many people forget this simple but important component until they go into the software and realize that all of their prior work is gone. Fortunately, this is avoidable with QuickBooks' scheduled automatic backup feature that ensures your work is always saved and gives you peace of mind. If you use QuickBooks Online, it is a cloud-based program that allows you to access your files from anywhere as long as you have an Internet connection.
Cloud accounting lets you access your books on the go and connects to your bank account for automatic updating daily. One of the biggest advantages of cloud accounting software is the peace of mind that your books are secure. You lose spreadsheets and data if your computer crashes, but with cloud accounting, data is automatically and securely saved in the cloud.
7. Learn QuickBooks in Multiple Qays
Last but certainly not least, we recommend learning QuickBooks in different ways. One of the best ways to learn anything is to use different approaches.
According to Judy Willis, a neurologist and leading authority in the neuroscience of learning: "The more regions of the brain that store data about a subject, the more interconnection there is. This redundancy means students will have more opportunities to pull up all of those related bits of data from their multiple storage areas in response to a single cue. This cross-referencing of data means we have learned, rather than just memorized."
There are many QuickBooks training resources for beginners out there, including online QuickBooks tutorials for beginners, YouTube videos, books, and 1-on-1 training with a QuickBooks pro. If you feel stuck, confused, or overwhelmed, there are experts that can help guide you and teach you everything you need to know!